Set Your Pace. Reach Your Goals.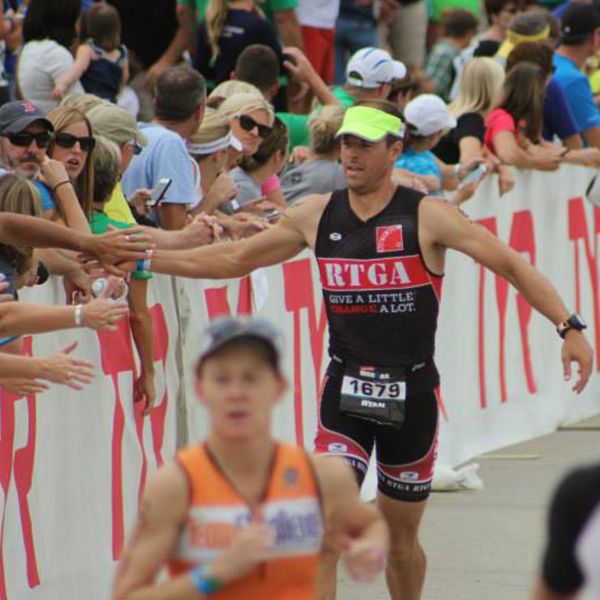 I'm a Kansas City (Olathe suburb on the Kansas side) product, raised in Olathe, and attended KU for college (Rock Chalk Jayhawk!) where I obtained two degrees in engineering. I reside in Olathe now with my wife, 3 kids and 1 dog.
Around 2001 I started running 5k's up to ½ marathons. I had always worked out with weight training, running and mountain biking since high school football. Mountain biking and running lead me to running off-road duathlons and a few mountain bike races in 2002. In 2003 I signed up for a duathlon, not realizing I would need a road bike, which I did not own at the time. I borrowed someone's steel road bike and placed 2nd in my age group. I was hooked on on-road duathlons and running races while despising swimming. In 2005 I ran my first triathlon and have been racing ever since overcoming my disdain for the water.
USAT Level 1 Triathlon Coach, IRONMAN University Certified Coach, Masters Swim Instructor.
Key Achievements:
10 x marathon finisher (PR 3:28:17)

13 x Half IRONMAN finisher (PR 5:01:01)

6 x Full IRONMAN finisher (PR 11:48:00)

Multiple sprints, Olympic and long course triathlon finishes

2014, 2018, 2019 All World Athlete qualified for IRONMAN events

2016, 2017, 2018 Olympic Distance USAT Age Group National Championship Qualifier

2017 Olympic Distance USAT Age Group National Championship Competitor
"I decided to hire Ryan as my coach to help get me through my first full-distance IRONMAN event.  Every week I had my entire schedule of workouts planned out.  If I had any questions, he was quick to get me straightened out.  I had set a goal of 13 hours for IMChoo.  Ryan had me so well-prepared for the race that I "crushed" my goal and finished in 12:13!  If you need a coach who can keep you on track, I highly recommend Ryan!"
Travis B
"I had been racing triathlons for 3 years before working with Ryan.  My training completely lacked structure or intention and I had stopped making progress in any if the disciplines. With Ryan's coaching, I've already seen significant improvement in all aspects of my performance.  Every week is laid out in advance, and Ryan has worked with me to shuffle things up if needed around work and family.  Beyond workouts, Ryan has provided guidance on nutrition tips, run form, swim form and many other aspects of training/racing.  Weekly, he reviews the workouts I posted and provides feedback and tips and always looks for ways to help me improve.  I'm excited about competing in 2018 and am confident in reaching my goals with Ryan's help."
Jeff C.
"I could not swim a full 50 yards without doggy paddling and didn't even really know what running was.  I was a novice to say the least.  I learned real quick that Ryan didn't care how "new" I was.  The guy still believed in me.  I knew at this point, Ryan was the real deal.  Through online coaching, he took me from swimming 50 yards to 3000 yards in a little over 10 months.  He helped me pick up speed on the bike.  He took me from running a 5k to running a half marathon (and actually feeling good while doing it).  The great thing about Ryan is that his coaching is flexible around family and work schedules.  I highly recommend anyone looking for coaching to reach out to Ryan.  He understands life and wants the best for you on the triathlon field, but also your work and family!"
Tim M
Ryan is such a terrific coach! He patiently helped me figure out how to balance triathlon training as a busy working professional, a mom, & a wife. When I was struggling with sleep deprivation early on, he helped reconfigure workouts and collaborated with me to fit in high-quality workouts without compromising sleep. Ryan's coaching style is positive, encouraging, and extremely consistent. His consistency offers a predictability and efficiency that translates into results, physically and mentally. Training plans are posted on time. They are clear, easy to follow, and effective. I've dropped a whole minute/mile on my running pace; increased average bike speed by 3 mph, and cut 10 seconds off my 100 m split for swimming. All without any injuries! He also helped me find a massage therapist. My favorite part of Ryan's coaching style is how he comments before and after workouts, helping me prepare beforehand and then recognizing the effort put in…every single time, every single workout. If consistency is the key to your success, then Ryan will you get you there.
JHR
I tried to do it all on my own and quickly realized I had no idea what I was doing regarding the bike or training in general. I decided a coach was a good idea. I found Ryan through my local tri club and he is awesome! We used a remote coaching set up and he gives me personalized workouts based on my abilities, schedule, and goals. He also incorporates my tri team's group workouts into the plan. My first big race under this set up was my first ever marathon and I wanted to finish in sub 4 hours. I consider myself an average runner and sub 4 would be a stretch, but I followed his plan and finished right at 3:59:46! Along the way, he'd adjust the plan if I needed a break or was having difficulty, and would provide advice on nutrition, form, and recovery. He's always encouraging me to do my best and push harder but always has life balance in mind so I don't get burned out. I'm going to be working towards my first 70.3 and 140.6 next year and can't imagine trying to train for them on my own. They don't seem all that scary knowing I have a coach behind me. If you're looking for a coach, I can't recommend Ryan enough. He knows his stuff and will keep you on track for your goals, all you need to do is follow the plan and provide feedback.
HJ