IRONMAN IRELAND is HERE.
IRONMAN Ireland is HERE.  You've trained, you've prepared, don't blow it by not being ready for the course!
With any event, I always recommend you READ THE ATHLETE GUIDE –> 2019 im ie athlete guide

WEATHER
Hmmmm…. low 60's and rain doesn't get me super excited.  BUT, doesn't look like severe weather.

Here's my advice.
Full wetsuit!
Bundle up for a wet and cold ride and a wet run.  Should be great for the run. 
Make sure to use lubrication on all the chafing and sensitive spots.  After 140.6 miles in wet gear, you will be raw!  Pack some extra in special needs bags as well as transition bags.  Tri Slide.  Aquaphor.  Whatever you use, pack double!
SWIM
From the race web site, "Athletes will start with a 3.8km (2.4-mile) 2-lap swim with a rolling start from the golden and sandy, Claycastle beach in Youghal Bay. The course will feature an Australian exit, meaning there will be a very short beach run between exiting lap 1 and re-entering the water for lap 2."
Key points:
2 loops AND 6 turns per loop.  Not exactly thrilled looking at the course map, but it is what it is.  It's a technical swim requiring some good sighting to not spend extra time and energy getting off course.
Site often for the turns.
Know what color the buoys are for turns.  From the map they all look yellow, so scope it out before jumping in.
Be ready for contact.  With that many turns, you will swim over, be swam over and be hit in the face, head, feet, legs… it will happen.  Swim wide of the turns if you want to minimize it.
Look at the course BEFORE you start.  It helps cut down anxiety when you have something for your brain to work on.  Look at the start chute.  Know target 1, 2, etc and where turns are.  Locate land markers for sighting.  When you're in the water, it's too late to figure that out.
RELAX.  Take the first few 100 yards easy.  Find your rhythm.  Swim your race.  Don't do anaerobic and freak out looking for air.  You are not going to be able to shoot out at your sprint pace and hold it despite that HUGE shot of adrenaline that you will get when you jump in.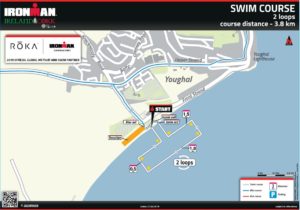 THE BIKE
From IM site, "A two-lap 180km (112 Mile) bike course is next. The course heads straight out into the rolling Irish countryside with a combination of flat and undulating coastal roads with magnificent views of Youghal Bay, Ballycotton Island and Cork Harbour. This breath-taking course, that travels around County Cork, also takes in the town of Midleton (home to the famous Jameson Distillery) and will rise to a maximum elevation of 190m, before a technical drop back to Youghal. The course takes athletes through Youghal Town Centre and the infamous Windmill Hill before the start of the second lap. Please Note: All courses remain subject to minor adjustments."
TIPS
1900 meters, or about 6200 feet of gain.  That's a lot.  Hope you hit the bike in training, because you are NOT going to be able to hide from short sided bike training.  There are 2 big climbs overall that will take patience and management to come through ready to run 26.2 miles afterwards.  Spin the legs on the long steep climbs, you'll thank me on mile 13 of the run.
Since you have two loops, and two chances to manage the route, at least you will have the first loop to figure out where you are going to burn energy and where you can make it up.  Pay attention and don't daydream out there!
BUNDLE UP FOR THE RIDE!  60's and rain will NOT be fun for 112 miles.
Coming out of T1, don't gun it no matter how great you feel.  Give yourself 20 minutes to calm down and find your targets.  Your HR should settle and it will be easier to listen to your body.
Resist the urge to fly with a tailwind and hammer it.  If you have it at the start and come back on the loop with a headwind, it will be morally defeating to not be able to hold consistent speed or power since you burned it up with the tailwind.  Trust me.
FOCUS FOCUS FOCUS on nutrition and hydration.  I always preach the goal is to be 2 to 3% dehydrated off the bike.  You cannot avoid losing no matter how much you think you can take in, so don't play that game, but make sure you plan your fluids and nutrition how you trained.  You trained like that, right?  It's going to get hot, and if you are not on top of your water intake, then the run is going to get ugly!  I would even suggest trying to get in minimum your max you planned in training and maybe a bit more.  You don't want to be in the 5 to 6% dehydrated range rolling into T2.  TRUST ME.
The bike is an energy management equation.  If you go through too much, you cannot get it back for the run.  Better to pull back and give up 10 minutes on the bike so you don't give up 2 minutes per mile or more walking on the run.  Even if the weather is great and you feel great, race your plan!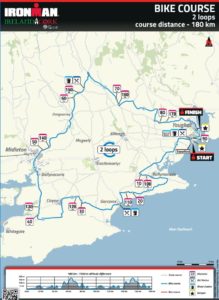 THE RUN
Where the race really starts.  Did you manage the bike power/effort?  Did you hydrate and eat right?  You're going to find out now!
From the IM site, "The 42.2km (26.2-mile) run course will be the highlight of this event. This will be a flat four lap run course through the centre of the historical town of Youghal, taking in Youghal Harbour and the famous Clock Gate Tower. Athletes will run under the arch of the Clock Gate Tower in the centre of town during each lap before finally crossing the finish line in Market Square."
TIPS
750 feet of elevation gain… they try and butter you up with the scenery comments, but make no mistake, you will run some uphills.  Be ready since you get the same hill going out and coming back.  By the 4th loop, you should be really good!
Speaking of 4 "loops"…. 4 out and backs.  Great for spectators, but doing a loop course, and adding to it being and out and back, you will need some mental Jedi mind tricks to keep a positive outlook.  I always advise athletes to focus on mile markers and not necessarily which lap you are on.  Laps are long, miles are "short".
Plan you special needs as you may have different chances to get it.  Once you get it, you cannot have access again.  Plan it wisely.
Make sure to study the map, maybe walk the turn portions to know how the loops work.
This is where the lubrication factor will come into play.  If it's in the 60's and raining, if you didn't take care of the special spots, you will feel it.  Feet.  Arm pits. Clothe line areas.  If it gets rubbing on the run, smear it up!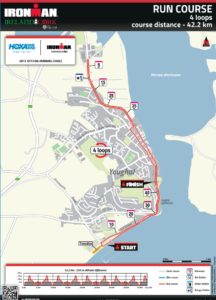 ANY QUESTIONS?  WHAT DID I MISS?
And as a bonus to those that read ALL THE WAY THROUGH, here's a link to my packing list I use to travel to races.  Enjoy.