IRONMAN Santa Rosa is HERE.
IRONMAN Santa Rosa is just around the corner.  You've trained, you've prepared, don't blow it by not being ready for the course!
With any event, I always recommend you READ AND KNOW THE ATHLETE GUIDE!  –>  2019 im santa rosa athlete guide rs!
WEATHER
Spring has sprung in most areas around the country.  Some are still stuck with some snow and cooler temps, but Santa Rosa forecast looks perfect!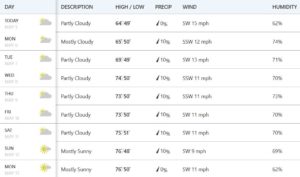 70's and partly cloudy.  YUM!
Here's my advice.
The temps look perfect!  It may be a little chilly in the AM, but you'll get warmed up on that bike in no time.
While temps look tame, keep an eye on the humidity.  Reaching the 70's, if you're not ready for that, it could bite you a little on the sweat and hydration front.  Just keep an eye no your sweat rate on the bike and adjust accordingly.
Right now it lists as partly cloudy, but you can still get a sunburn!  Saw TONS of comments from IRONMAN Texas where a lot of people got burnt.  That makes a long day longer when you're more red than a lobster… with your kit rubbing on your skin… OUCH no thanks!  Sunscreen it up!
SWIM
2 loop course with 4 turns… big rectangle.
From the race web site, "Nestled in the beautiful coastal foothills of Sonoma County, athletes will swim in Lake Sonoma. Athletes will start their swim from the boat ramp on the north side of the Rockpile Road Bridge. Swimmers will swim two loops in the lake before exiting and running up the boat ramp to transition."
Key points:
It doesn't get much better than a 4 turn swim… ok maybe a 3 turn, but over a 1.2 mile course with 4 turns, that gives you AMPLE space to spread out.
It will be congested with all those turns.  Stay wide if you don't like contact.
Site often.
Know what color the buoys are for turns.  They have orange, yellow, red…. just LOOK at the map before you jump in race day.
Look at the course BEFORE you start.  It helps cut down anxiety when you have something for your brain to work on.  Look at the start chute.  Know target 1, 2, etc and where turns are.  Locate land markers for sighting.  When you're in the water, it's too late to figure that out.
RELAX.  Take the first few 100 yards easy.  Find your rhythm.  Swim your race.  Don't do anaerobic and freak out looking for air.  You are not going to be able to shoot out at your sprint pace and hold it despite that HUGE shot of adrenaline that you will get when you jump in.
The sun will be in your face at one point or another.  Make sure you have tinted goggles.
With two loops, typically you will get out of the water at some point to cross a timing mat.  MAKE SURE YOU CROSS THE MAT! Also this is the chance to re-collect yourself.  Check your goggles.  They also typically have water on hand to grab real quick before loop 2.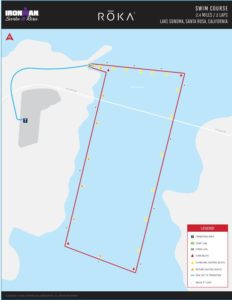 THE BIKE
3900 feet of elevation gain… hopefully you trained for that!  Notice too that it's a point to point.  Always fun with the transition logistics, gear, bus to start, etc.  Make sure you hit an athlete briefing and know the plan before race day!!!
From IM site, "Athletes will be traversing the beautiful Sonoma County wine country in the Alexander Valley, Russian River Valley and Dry Creek Valleys. In 2018 the bike course returns to its roots and is bringing back the Chalk Hill Road section. This beautiful course will showcase all the beauty of the Sonoma County wine country."
TIPS
From past participants, I have gathered that at certain points the roads need some work.  Make sure you don't tune out and end up in trouble.  Always be assessing the conditions and planning your route.
Coming out of T1, don't gun it no matter how great you feel.  Give yourself 20 minutes to calm down and find your targets.  Your HR should settle and it will be easier to listen to your body.
Resist the urge to fly with a tailwind and hammer it.  If you have it at the start and come back on the loop with a headwind, it will be morally defeating to not be able to hold consistent speed or power since you burned it up with the tailwind.  Trust me.
FOCUS FOCUS FOCUS on nutrition and hydration.  I always preach the goal is to be 2 to 3% dehydrated off the bike.  You cannot avoid losing no matter how much you think you can take in, so don't play that game, but make sure you plan your fluids and nutrition how you trained.  You trained like that, right?
The bike is an energy management equation.  If you go through too much, you cannot get it back for the run.  Better to pull back and give up 10 minutes on the bike so you don't give up 2 minutes per mile or more walking on the run.  Even if the weather is great and you feel great, race your plan!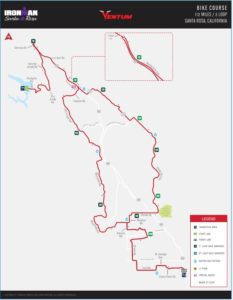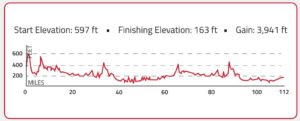 THE RUN
Where the race really starts.  Did you manage the bike power/effort?  Did you hydrate and eat right?  You're going to find out now!
From the IM site, "Athletes will transition to the run and will link up with the Santa Rosa Creek trail, this tree lined 3-loop run course will provide a flat, shaded fast course for athletes to enjoy. Each loop will return near the Courthouse Square for ideal spectator viewing with the Finish on the north side of the Courthouse Square."
TIPS
277 feet of elevation gain… flat and fantastic!
3 loops is great for spectators, but can be daunting for athletes.  Starting loop 1 can at times seems insurmountable knowing you will have 2 more, but the best advice is to take it one lap at a time.  Make sure your support crew is at a good spot to keep you motivated.
Make sure to study the map, maybe walk the turn portions to know how the loops work.  Also make sure to know when you have access to special needs as some courses run shorter loops and you may only get there 1 time on the run.  From the athlete guide it looks like you can access it on each loop, but keep in mind the time you get it, that's it.  One time deal, so plan well when you think you will need it.
Half way through the marathon is where the real race begins.  Did you hydrate and eat enough on the bike.  Had you hydrated and eaten enough on the first half of the run.  This is the time the holes in your planning, training and execution of your plan will be exposed.  Heed it now, don't regret it on race day!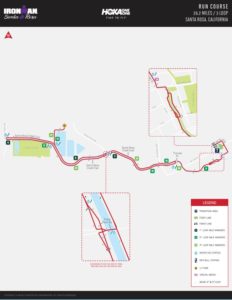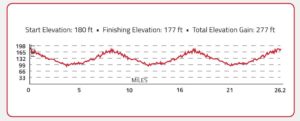 Since you made it this far, also check out Kansas City native Rachael Norfleet as she shares her insider tips on racing IRONMAN Santa Rosa after her Kona Qualifying effort May 2018. Is it a fast course for her? Was it a piece of cake? What insider tips does she have!? Watch and find out!
ANY QUESTIONS?  WHAT DID I MISS?
And as a bonus to those that read ALL THE WAY THROUGH, here's a link to my packing list I use to travel to races.  Enjoy.