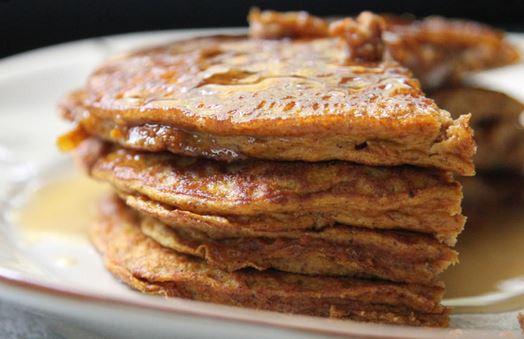 Makes 4 large pancakes (4 servings of nutrient info below), or could be divided up to smaller servings.
For one pancake, ROUGHLY:
350 cals; 10g fat, 35 gcarbs, 28g protein
Need a healthy breakfast to satisfy that pancake craving?
Fear not!  Here's a recipe for protein pumpkin pancakes we use at our house.  Enjoy!
Directions:
Add all the ingredients in bowl or blender and blend until smooth.
Heat a nonstick griddle or skilled coated with cooking spray over medium heat. Ladle about 1/4 cup of pancake batter (or less for smaller pancakes) per pancake onto griddle or skillet. Once pancake tops are covered with bubbles and edges look cooked, they are ready to flip. Cook both sides.
Sometimes depending on the protein powder, pancakes may take longer to cook.
Recipe makes 4 pancakes.