SHAWNEE MISSION TRIATHLON and DUATHLON is HERE.
You've trained, you've prepared, don't blow it by not being ready for the course!
With any event, I always recommend you READ THE ATHLETE GUIDE –> LINK HERE

WEATHER
High 89's and 67% humidity.  If you have been out and about AT ALL this summer so far in Kansas Cty, it's hot… like oppressive heat and humidity.  Also keep an eye out for the showers that may pop up race morning.  Know the severe weather protocol and don't get caught off guard if the race is modified or delayed.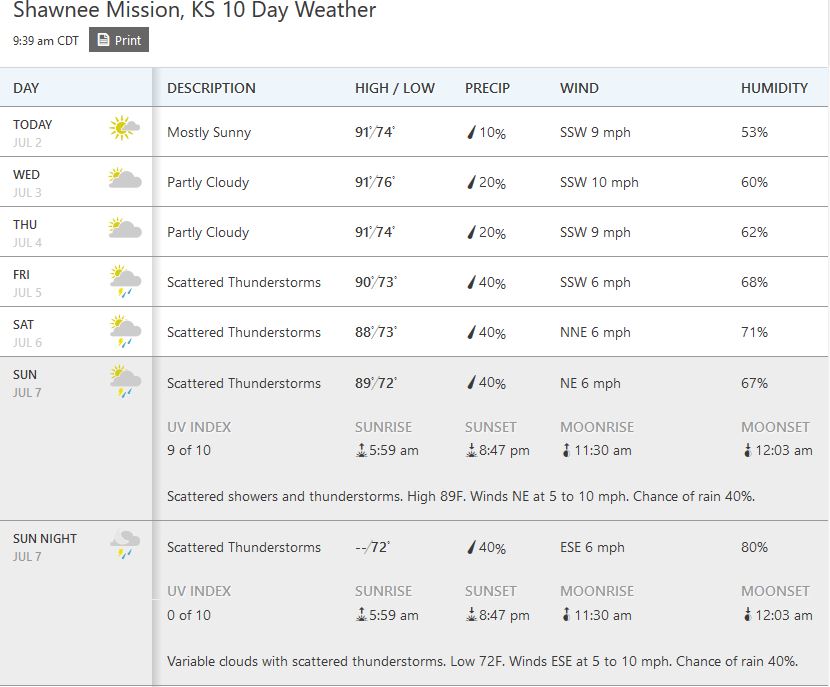 Here's my advice.
Watch the radar and event Facebook page to make sure you don't get all the way to event if weather is going to cancel it.
Bring a speed suit/swim skin for the swim.  It will not be wetsuit legal.  Period.  Not enough rain coming before to cool the lake down.
Bring bags for your gear just in case it rains and you want to keep anything dry.  They could delay for rain and start later, so keep that in mind.
Bring sunscreen.  Looks to be sunny and you don't want a race number sunburn for a souvenir.
Be ready for heat.  Hydrate well the day before and morning.  They moved up the start time to 6:30, so that should help get everyone off course before it really kicks in.
Bring a towel and water for afterwards to "wash off".  It's nice to get the funk off before heading back to the car.
Sunglasses!
Run smart for the conditions.  You may not be setting PR's and unable to hold training run speeds due to the heat and humidity.
SWIM
So, with 4 distance options, know your turning spots.  You will be facing the sun on the way back, so sighting the buoys will be crucial in staying on course.  There's only two true turns, the rest are more like meandering.
Key points:
Make sure to keep sighting and not just head down swimming.  You can get off course with that long from start/finish to turns.
Consider tinted goggles.  You will face the sun on the way back in.
The water temp is well above 80.  No wetsuit.  Be ready!
Know what color the buoys are for turns so you have an idea when the turn is on you.
Swim wide of the turns if you want to minimize contact.
Look at the course BEFORE you start.  It helps cut down anxiety when you have something for your brain to work on.  Look at the start chute.  Know target 1, 2, etc and where turns are.  Locate land markers for sighting.  When you're in the water, it's too late to figure that out.
RELAX.  Take the first few 100 yards easy.  Find your rhythm.  Swim your race.  Don't do anaerobic and freak out looking for air.  You are not going to be able to shoot out at your sprint pace and hold it despite that HUGE shot of adrenaline that you will get when you jump in.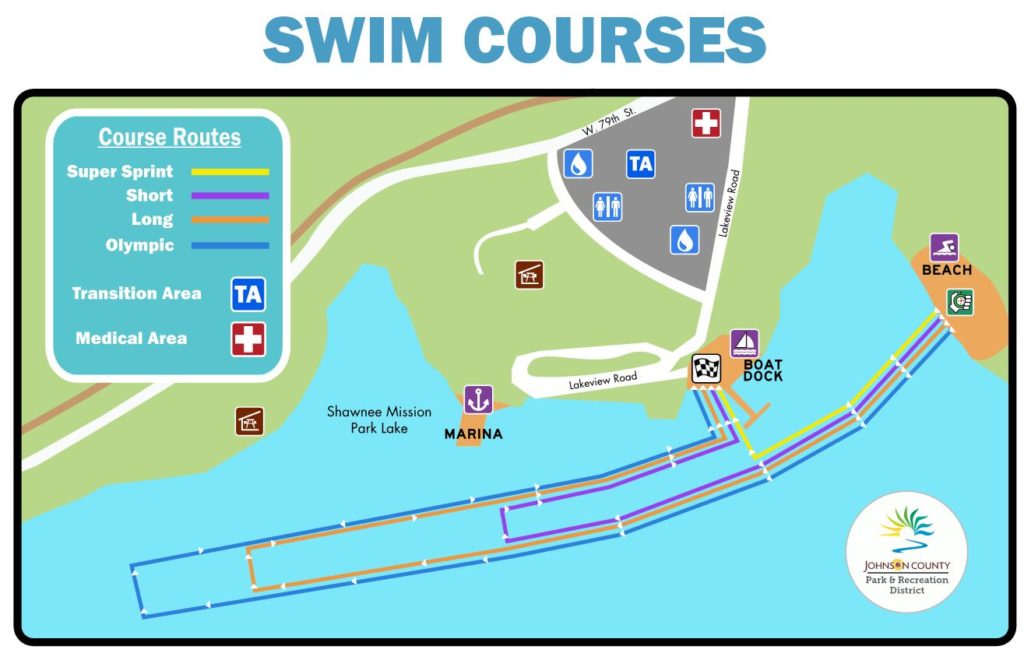 THE BIKE
Hope you trained hills!  330-ish feet of gain for each loop.  Count that up for your loops count and make sure you know how many loops you are doing for your distance!  No need to do more than you need to!
TIPS
It's going to get hot quickly on the bike.  Don't think about fluids when you hit the slow down area for transition.  Be on the fluids when you crest a hill or have a moment to grab for the bottle.
It's going to be important to manage the hills and not burn everything out for the run.  Be smart and don't hammer in the 50 rpm range trying to power the hills.  Kick back to 75% max FTP (or low Z4 HR) and adjust gears to what you need to keep effort under control.
Watch out for other riders on the down hills, but try and capture that momentum for the next hill.
Watch for other riders when you come back around transition.  They will be hitting the course and merging, so stay right when you pass.
Coming out of T1, don't gun it no matter how great you feel.  Give yourself 20 minutes to calm down and find your targets.  Your HR should settle and it will be easier to listen to your body.
FOCUS FOCUS FOCUS on nutrition and hydration.  I always preach the goal is to be 2 to 3% dehydrated off the bike.  You cannot avoid losing no matter how much you think you can take in, so don't play that game, but make sure you plan your fluids and nutrition how you trained.  You trained like that, right?  You don't want to be in the 5 to 6% dehydrated range rolling into T2.  TRUST ME.
The bike is an energy management equation.  If you go through too much, you cannot get it back for the run.  Better to pull back and give up 10 minutes on the bike so you don't give up 2 minutes per mile or more walking on the run.  Even if the weather is great and you feel great, race your plan!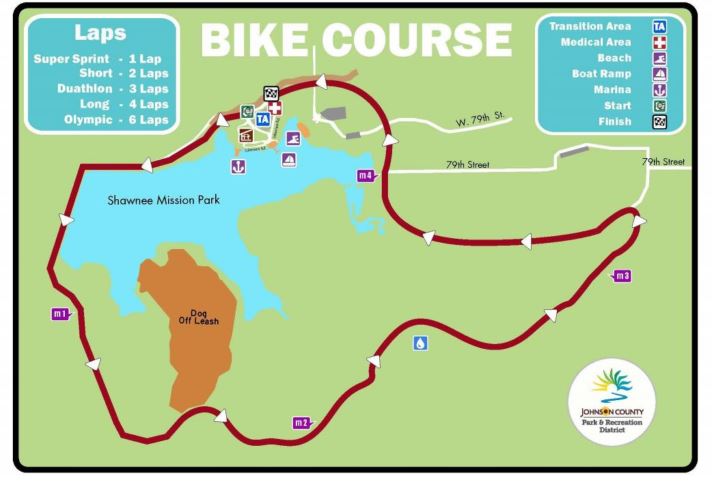 THE RUN
250-ish feet of gain over 5 miles isn't half bad for the long course. The heat will be on at this point.
Again, make sure you know where you are going for your distance!  No need to go longer than you need to.
Sunscreen up in T2.  You don't want to suffer out there turning into a lobster.
Keep the pace and effort in check out of T2.  You will have a chance to burn off that excitement on the climb at the DAM hill.
Lean at the ankles, keep cadence at 80+ and focus on form over muscling through it.  This is where you find out of you tried to hammer the hills too hard on the bike.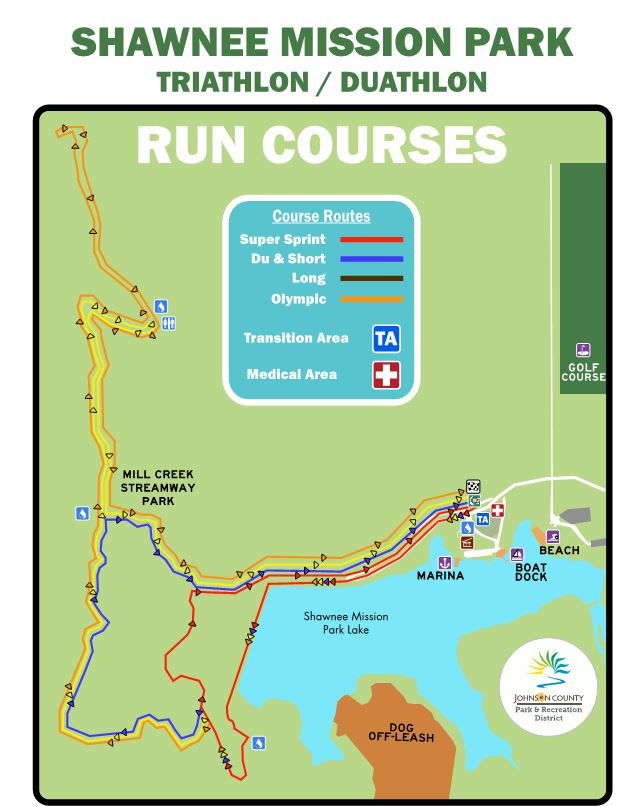 And, some video thoughts as well!
ANY QUESTIONS?  WHAT DID I MISS?
And as a bonus to those that read ALL THE WAY THROUGH, here's a link to my packing list I use to travel to races.  Enjoy.