IRONMAN Boulder is HERE.
IRONMAN Boulder is just around the corner.  You've trained, you've prepared, don't blow it by not being ready for the course!
With any event, I always recommend you READ THE ATHLETE GUIDE –> 2019 im boulder athlete guide rs 1

WEATHER
Hey how about that race in 2018 and 100 degrees on course?  Ya that would suck, but 2019 is looking MUCH better.  Low 80's before and around race day.  Not sure about rain right now, but keep an eye on the forecast.  It could change a lot before then, so pack for cold, hot, rain… don't get caught off guard with a different forecast.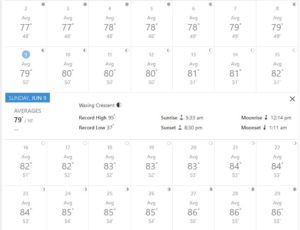 Here's my advice.
Keep an eye on the heat.  Reaching the 80's isn't bad, but there's not much shade on the bike and run into town.  That sun gets HOT at elevation, so hope for a breeze or some clouds.  SUNSCREEN people!
Be hydrating ALL WEEK before.  Elevation with dry air can be deceiving how dehydrated you can get and how quick it could happen, especially with temps in the 80's walking around IM village, check in, drop offs, etc.  STAY HYDRATED and sunscreen ALL WEEK!
SWIM
You really can't go wrong with the rez swim.  Pretty calm waters.  No real issues with water animals.  2 turns… does not get any easier.
From the race web site, "The 2.4-mile swim at the Boulder Reservoir will have water temps in the 70's. The traditionally smooth lake will launch you on your day. The one-loop course will travel north first along the reservoir dam and will head west and then south. The first of two transitions will also be at the Boulder Reservoir."
Key points:
Even if air temps get in the 80's, the feed for the Rez could be cold enough to keep it wetsuit legal.  More than likely you can still use a wetsuit and start at the back if the temps get to the optional range.  Just bring it all.  Speed suit.  Wetsuit.  When I raced in 2015, it was optional and I went with a speed suit and was actually pretty cold by the time I got out.  Just be mindful.
Know what color the buoys are for turns.  They have orange, yellow, red…. just LOOK at the map before you jump in race day.
Look at the course BEFORE you start.  It helps cut down anxiety when you have something for your brain to work on.  Look at the start chute.  Know target 1, 2, etc and where turns are.  Locate land markers for sighting.  When you're in the water, it's too late to figure that out.
RELAX.  Take the first few 100 yards easy.  Find your rhythm.  Swim your race.  Don't do anaerobic and freak out looking for air.  You are not going to be able to shoot out at your sprint pace and hold it despite that HUGE shot of adrenaline that you will get when you jump in.
Really, this is the best a swim can get for a triathlon.  SOAK IT UP!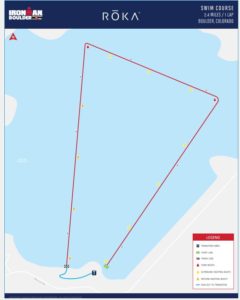 THE BIKE
3900 feet of elevation gain… hopefully you trained for that!  Notice too that it's a point to point from T1 to T2.  Always fun with the transition logistics, gear, bus to start, etc.  Make sure you hit an athlete briefing and know the plan before race day.  More than likely you need to meet around the finish area at the high school and get bused to the Rez along with any spectators.  Start planning your morning and your Sherpas' mornings.  You don't to be stressing the night before or race morning about those logistics.
From IM site, "    " – ha… nothing.  Well, I'll fill you in.  It's a lot of the same roads at 2015, just different turns, etc.  If you are heading towards the mountains, expect some false flats and some climbing.  It's not monster mountain climbing, but be ready for some ascents and then fun descents!  Be smart in your energy management and don't burn it up attaching the uphills.  Being in aero will be your friend!
TIPS
The roads are ok for the most part. The winter could have caused issues with cracks and potholes, so keep your eyes open.  Also be aware of traffic.  Some spots get tight depending on how IM cones off the route.  You could have a shoulder and they shift traffic over a bit making passing a dicey proposition.
The 3900 feet of gain comes on 3 major climbs (times two for two loops).  Get prepared to be steady and efficient on each climb and recover on the backside.  Avoid hammering the downhill as you will keep digging yourself into an energy hole into each climb.
Coming out of T1, don't gun it no matter how great you feel.  Give yourself 20 minutes to calm down and find your targets.  Your HR should settle and it will be easier to listen to your body.
It is two loops, so don't get fixated on you have another loop deep into the first go around.  Athletes start feeling the toll around mile 56 just as you start the next loop.  Take the race 10 miles at a time.  Read the course on loop one so you ride it smarter on loop two.  Know where you can add some power, know where you won't need to add power.  Keep your mind on the race, not the longevity of the day.
Resist the urge to fly with a tailwind and hammer it.  If you have it at the start and come back on the loop with a headwind, it will be morally defeating to not be able to hold consistent speed or power since you burned it up with the tailwind.  Trust me.
FOCUS FOCUS FOCUS on nutrition and hydration.  I always preach the goal is to be 2 to 3% dehydrated off the bike.  You cannot avoid losing no matter how much you think you can take in, so don't play that game, but make sure you plan your fluids and nutrition how you trained.  You trained like that, right?  It's going to get hot and sunny out there, and if you are not on top of your water intake, then the run is going to get ugly!  I would even suggest trying to get in minimum your max you planned in training and maybe a bit more.  You don't want to be in the 5 to 6% dehydrated range rolling into T2.  TRUST ME.
The bike is an energy management equation.  If you go through too much, you cannot get it back for the run.  Better to pull back and give up 10 minutes on the bike so you don't give up 2 minutes per mile or more walking on the run.  Even if the weather is great and you feel great, race your plan!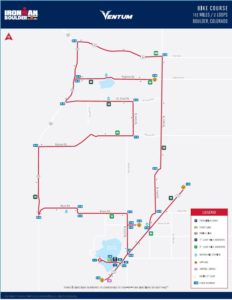 THE RUN
Where the race really starts.  Did you manage the bike power/effort?  Did you hydrate and eat right?  You're going to find out now!
From the IM site, "  " – nothing…  Here's my take.  In 2015 it was all in town on paves trails.  It was actually pretty sweet as we had LOTS of shade.  It was mentally tough doing 3 laps, but the shade REALLY helped.  Going from the Rez into town you will have LITTLE shade.  BE READY.  Sunscreen in T2.  Hydrated well on the bike.
TIPS
900 feet of elevation gain… it's not mountain climbs, but there's some slow ascents in there.  Don't attack the hills and run yourself into the pain cave early!  Be efficient in your strides and get the most distance with the most efficiency.  Use the downhills to stride it out and not kill it.
Make sure to study the map and don't miss the out and back!
Be aware this is TWO LOOPS.  Like the bike, don't get wrapped around the axle about doing the course twice.  Take it mile by mile and know on the second loop where you want to add, subtract or divide your energy application.
If you didn't hydrate well on the bike, this is where it's going to catch you.  You will be exposed on sections with no cover.  Be ready.  Be sunscreened up!
Don't think you will get a chance to catch up on fluids on the run.  It's a pretty good test of fortitude.  Stock up early at the aid stations with fluids.
DO NOT head out of T2 like a locomotive.  Take it easy the first half because you will need it for the second half.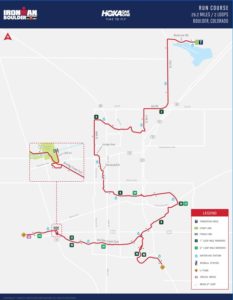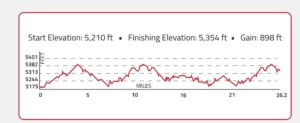 You read this far, check out some various takes on IRONMAN Boulder.
ANY QUESTIONS?  WHAT DID I MISS?
And as a bonus to those that read ALL THE WAY THROUGH, here's a link to my packing list I use to travel to races.  Enjoy.